Dental Implants – Trophy Club, TX
New Tooth Roots That Last a Lifetime
Unexpected tooth loss can be an unwelcome adjustment to not only your smile but to your life. When you are missing teeth, you may start to notice little problems appear that were not there before. For instance, your bite force may be weakened, and it may be harder to eat your favorite foods. You may not be able to enunciate or communicate as clearly as you like, as well. Your remaining teeth may start to shift or drift into the opening, and this can lead to further tooth loss.
Loss of bone may occur quickly, and your gums can start to shrink. Moreover, this is just the tip of the iceberg! When our team here at David Crumpton, DDS encounters patients without some (or all!) of their teeth, we like to share them the facts about dental implants from our Trophy Club, TX dentist to help them determine if they are a worthwhile solution for their missing teeth.
Why Choose David Crumpton, DDS for Dental Implants?
Implants Placed and Restored In-House
Advanced Technology for Planning Treatment
Dentists Always Take the Time to Explain Care
What are Dental Implants?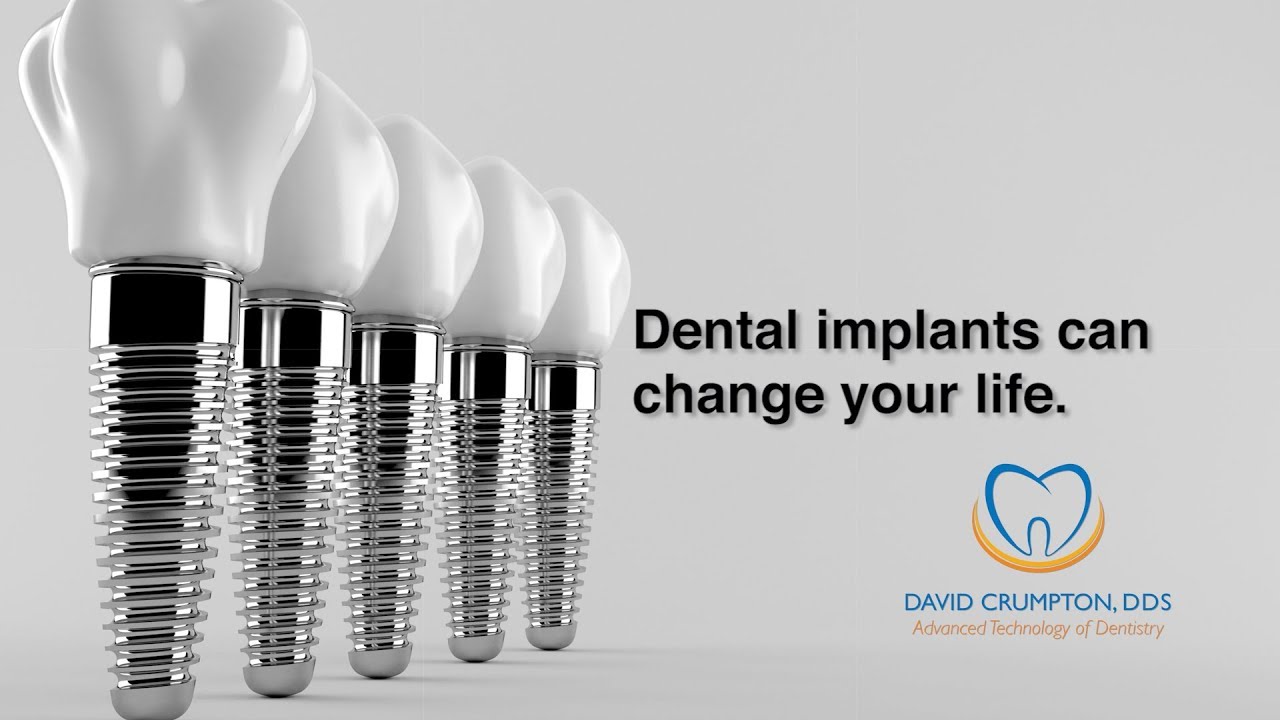 Dental implants, while still a relatively new technology, can provide our patients with the highest quality and most natural-looking replacement option for their missing teeth. This procedure continues to grow in popularity, with half a million people choosing dental implants every year.
Unlike dentures, which can be removed from your mouth for cleaning, dental implants are a permanent fixture to your mouth. They do not slip or impair your ability to speak, and they do not cause abrasions or discomfort in your mouth as conventional dentures can. Also, unlike dentures, dental implants are surgically placed, giving you a lasting and attractive alternative to other dental prosthetic options.
Dental implants are comprised of three main components: the implant (a titanium screw), the abutment (the part that attaches the implant to the restoration), and the restoration (also known as the crown, the part that resembles a tooth). During the procedure to place the implant, we will begin by thoroughly numbing your mouth to ensure that you do not experience any discomfort throughout it. We will create an incision in your gumline, then surgically place the titanium screw directly into your jawbone. The abutment will protrude from it, above the gumline. This is where we will attach the restoration, finalizing the procedure.
Learn About The History of Dental Implants
4 Step Dental Implant Process
There are four major steps to the dental implant process. They aren't exactly the same for every patient, as every smile has different needs, but the basic structure is typically the same. Dr. Crumpton is a member of the American Academy of Implant Dentistry and has been specially trained to place dental implants, meaning we're able to complete every step in-house. Below is an outline of how dental implants work in Trophy Club and what you can typically expect.
Initial Dental Implant Consultation
Not just anyone can get a dental implant; we need to confirm that you're a good candidate for the procedure, and to do that we'll need to schedule a consultation. Dr. Crumpton will use the latest technology to examine your mouth to see how many teeth are missing and what kind of shape your jaw is in. Some people can have implant surgery done right away; others are still potential candidates, but they may need bone grafting or other procedures to prepare their mouths first. We can schedule your dental implant surgery once we're sure that your jaw can safely receive and successfully support the posts.
Dental Implant Surgery
Compared to other types of surgery, placing dental implants is not an overly complex process. First, we make an incision in the gum tissue to reveal the jawbone. Then, after creating holes in pre-selected areas, dental implant posts are placed exactly where they're needed at carefully chosen angles. The gums are then stitched shut, and a cap is placed on the implant posts to shield them; this also has the added benefit of making sure the gums retain their shape while they're healing. Your mouth will be numbed the whole time while the implants are being placed.
Dental Implant Osseointegration & Abutment
Osseointegration – the fusion of the implant post and the jawbone – usually takes about three to six months. During that time, you should protect your implant by not directly using it to bite or chew. Once osseointegration is complete, you can receive abutments for your dental implant posts. The abutments are small pieces of metal that can anchor dental restorations in place, and they need to be attached via another surgery, although this one will be smaller and will require less recovery time.
Delivery of Dental Implant Restoration(s)
"Restoration" is another name for replacement teeth. It can refer to a crown, a bridge, or a denture – all of which can be attached to a certain number of dental implant posts. To make your new restoration, we'll create an impression of your natural smile and send it to a dental lab. Once the prosthetic arrives at our office, we'll call you in for a last appointment. We may have to slightly adjust the fit and color of the teeth before we place them on the implant posts.
Benefits of Dental Implants
Over five million implants are placed every year, and the treatment is only growing in popularity as more and more people learn about the benefits, which include:
Custom-designed restorations that blend in perfectly with the natural teeth after being attached to implant posts.
New, durable roots that nearly completely restore your ability to bite and chew.
The prevention of bone loss, dental drift, and other oral health problems.
Implant posts that can last for decades or longer with the right care.
Learn More About the Benefits of Dental Implants
Who Dental Implants Can Help
We recommend dental implants for almost any patient who has lost at least one natural tooth. This treatment is versatile enough to bring back any number of teeth, from a single gap to an entire arch. Of course, we'll need to verify that you're eligible for implants first, and then we'll formulate a treatment plan that is tailor-made for your unique smile. Below, you'll find some information that will be helpful if you're considering dental implants.
Who Is a Good Candidate for Dental Implants?
The majority of healthy adults qualify for dental implants, which is part of the reason why this treatment's popularity has skyrocketed in recent years. During your initial consultation, our team will check to make sure you have the three main qualities of a good dental implant candidate:
Good overall health – Your body should be in good enough condition that you'll have no problem recovering from a minor oral surgery.
Healthy teeth and gums – We'll need to make sure your mouth is free of infections that could lead to dental implant failure.
Strong jawbone – A bone grafting procedure might be required to create the bone density levels necessary to support the implant posts.
Learn More About Whether You're a Dental Implant Candidate
Once your dental implant dentist in Trophy Club has determined that this solution is right for you, we can begin planning out your treatment based on your specific needs.
Missing One Tooth
A single implant post will be inserted into the gap where the missing tooth once was. Then, we'll place a dental crown on top, which will have been customized to mimic your other teeth, ensuring seamless results. Compared to a traditional dental bridge, this option is much healthier and more conservative, as a dental implant can support itself without requiring any of your tooth structure to be filed down.
Missing Multiple Teeth
If you've lost three or more teeth in a row, then an implant can be placed on either side of the gap to hold up a lifelike dental bridge. Again, this solution doesn't require us to make permanent alterations to any healthy remaining teeth. On the other hand, if you have multiple empty spaces throughout an arch, then a small number of strategically positioned implant posts can secure a partial denture into place.
Missing All Teeth
We can even restore an entire arch of missing teeth by anchoring a full denture onto an average of four to six implants expertly placed along the jaw. Known as implant dentures or full-arch dental implants, this prosthetic will be much more reliable than a regular denture. You won't need to worry about it slipping at inopportune moments. Depending on your preferences, we can make your implant denture either removable or fixed in place.
Learn More About Full Arch Dental Implants
Missing All Teeth with Low Jawbone Density
If you need full-arch implant dentures but don't have a strong enough jawbone to support them, then we may recommend Hybridge dental implants. With the Hybridge procedure, we can place dentures that use the absolute minimum amount of implant posts possible for support. The posterior implants will be angled in a way that they join with the bone tissue near the front of the jaw, granting them better stability. Sometimes it's possible to restore Hybridge implants on the same day as the surgery.
Start to Finish Convenience
From start to finish, getting a dental implant can take several months. The initial procedure, of course, can take between one to two hours to surgically place it. However, we must wait for the implant to heal before we can proceed with the placement of the abutment and the restoration. The titanium implant needs to first fuse to the jawbone in a process known as osteointegration. This helps to keep it strong and reinforces it. By allowing your mouth to heal completely from the procedure, we are ensuring the success of your implant. By and large, this procedure is quite safe and has a good prognosis for our patients, with a 98 percent success rate.
Understanding the Cost of Dental Implants
During your first consultation, we'll go over a number of factors that could help shape the final cost of dental implants in Trophy Club. How many teeth need to be replaced? How many implants are you expecting to get, and what kind of restoration will they support? Will we be able to start the surgery right away, or will preparatory treatments be needed first? All of these questions need to be carefully considered before a reliable estimate can be made.
Preliminary Treatments & Dental Implant Surgery
Gum disease therapy, extractions, or bone grafts may be required before you can begin implant treatment. Although preliminary procedures such as these add to overall costs, they are critical to the success of your dental implants.
Implant surgery involves a cost of its own, which is normally affected the type of sedation used and the location of the surgical site. Dr. Crumpton is an experienced implant dentist in Trophy Club and can perform start-to-finish implant treatment. This saves you the hassle of having to visit an oral surgeon for implant placement and helps streamline your fees.
The Parts of Your Dental Implant
The overall cost of implants is influenced by:
Number : Replacing one lost tooth with a single implant will costs less than using implants to replace multiple missing teeth or an entire arch.
Restoration : Crowns, bridges, and dentures all have different costs, with smaller restorations typically being less expensive.
Material : Most dental implants are made from titanium or zirconia; each material has a different cost.
Brand : Just like there are many makes and models of cars, there are also different implant manufacturers. Feel free to ask us about what brand of implants we use and why.
How Dental Implants Pay for Themselves
If you're choosing between dental implants in Trophy Club and traditional restorations, you may be leaning toward the latter because of the lower initial cost. However, investing in dental implants is often the smarter financial choice in the long-run. Traditional dentures and bridges typically must be replaced every 5 to 10 years. Dental implants, on the other hand, can last for decades with proper care. Implants are also easy to clean, which means they can help you avoid gum disease, tooth decay, and other oral health issues that would require costly care.
Does My Dental Insurance Cover Dental Implants?
Unfortunately, your dental insurance plan likely does not cover the cost of dental implants in Trophy Club. However, there are important caveats to this statement. Your insurance may help lower some of the costs related to implant treatment. For example, many dental insurance plans provide partial coverage for restorations or preliminary treatments like gum disease therapy. Our knowledgeable team will be happy to review the details of your plan and help you maximize your insurance benefits.
Making Dental Implants Affordable
Regardless of your insurance status, there are other options for making dental implants more affordable. For instance, you could take advantage of our in-house dental savings plan. For one flat fee, you get all your essential dental care out of the way along with discounts on other services. Going this route means you avoid insurance waiting periods, annual maximums, and other similar hassles. We offer four different in-house savings plans, so you can pick the package that will best suit your needs.
We also partner with third-party financing organizations like CareCredit and Proceed Finance. These two financiers allow qualified patients to break down the cost of dental implants into manageable monthly payments. Many of their flexible payment plans include low-to-no interest, making it easy to spread out the cost of dental implants rather than paying for treatment upfront.
Dental Implant Technology
As one of the most complicated and advanced dental procedures, placing dental implants requires pinpoint precision as well as an experienced team. Dr. Crumpton not only brings years of specialized training and clinical expertise, but he also uses some of the industry's most cutting-edge dental implant technology in Trophy Club to make sure every procedure has the best chances of success. We are proud that our office is equipped with devices that make the entire process more comfortable and more effective for our patients.
3D Cone Beam Imaging/3D CT Scanning
Although digital X-rays have improved over recent years, they don't provide a comprehensive picture of what's going on beneath the surface in your mouth. While planning implant placement, Dr. Crumpton likes to know where major blood vessels and other structures are located so that he can avoid any unnecessary complications. This technology allows him to see a more precise 3D model of your oral cavity, which he utilizes to strategize your placement procedure meticulously. As a result, you can experience fewer hiccups and enjoy your fully restored smile!
iTero and CEREC Digital Impression System
After your implants have had sufficient time to become integrated with the jawbone, Dr. Crumpton will place the abutment pieces, which connect the restorations to the posts. These abutments stick out above the gums. At this point, we can gather impressions of your mouth and fabricate your restorations. In the past, this process involved a messy, goopy putty being pressed against your upper and lower arches to create a mold to ensure an accurate fit. Fortunately, we take advantage of our digital impression system, which entails a small device easily, quickly, and comfortably scanning your oral cavity. Dr. Crumpton then designs your restoration right here, and it is made in our office. You may even get your restoration during the same appointment!
Dental Implant Education
Do you want to learn more about dental implants before getting them? Check the links below for additional information that we want our patients to be aware of. Contact us if you have other questions.
Dental Implant FAQs
Dental implants are an excellent option for patients who are missing one or more teeth. However, they are quite an investment, so it pays to be well-informed about the procedure. Here are the answers to some of the most common questions we receive about dental implants in Trophy Club. If you don't see the information that you're looking for below, give us a call. We'd be happy to explain more about the procedure and get you started with an initial consultation.
How Long Do Dental Implants Last?
The lifespan of dental implants usually depends on the health and lifestyle choices of the patient. To ensure that implants last, it's crucial that you brush twice and floss daily as well as attending regular dental cleanings and checkups. It's also a good idea to avoid chewing on anything particularly hard or sticky. With proper maintenance, dental implants can last upwards of 30 years. This is several times longer than traditional bridges or dentures.
Does Getting Dental Implants Hurt?
The jawbone doesn't have very many nerve endings, and your mouth will be numbed with a local anesthetic before the procedure begins. You will also most likely be sedated, lowering your body's ability to register pain. Even though the surgery shouldn't hurt, your mouth may be sore for a few days afterwards. Take recommended over-the-counter and prescribed pain relievers as directed. Cold compresses can also help. If discomfort worsens instead of improving after two to three days, give us a call.
Are Dental Implants Safe?
For the majority of patients with good health, dental implants are very successful when placed by a qualified professional. If you have low jawbone density or gum disease, these issues will need to be addressed first to ensure that dental implant surgery is as safe and successful as possible. If you have diabetes, cancer, or another medical condition that could make the surgery process risky, this will be discussed during your consultation. Your health is our number one priority!
Will I Have to Take Off Work for Dental Implant Surgery?
Most patients only need to take one or two days off to get dental implants. If your job is physically demanding, you should probably take at least three to four days off, as heavy exercise can divert blood from the implant site and delay healing. However, every case is different. During your consultation, Dr. Crumpton will be able to give you a more specific recommendation to meet your individual needs.
Maintaining & Caring For Your Dental Implants
One of the reasons dental implants are so popular is that they can last for decades. You can even enjoy them for the rest of your life, however this is only possible with the right maintenance. That's why Dr. Crumpton has included some effective steps you can take for dental implant care in Trophy Club. Read on to learn how to safeguard your newly complete, strong, and healthy set of teeth!
Make Oral Hygiene a Priority
Thankfully, your implants themselves cannot be affected by cavities or decay, however your at-home oral healthcare is more important than ever. Infection in the gums can cause implant failure, which is why it's up to you to care for your smile on a day-to-day basis. Brush your teeth twice a day and floss once a day to remove problematic plaque and bacteria. It's also a good idea to add a non-alcoholic mouthwash to your routine because this product can clean parts of your mouth that are difficult to reach.
Eat a Healthy Diet
Did you know that just like your daily care, your regular diet will also contribute to the health of your smile? Dental implants allow you to eat almost anything you want, but it's vital that you still watch what you snack on. Consuming too much sweet, sticky, hard or acidic food can contribute to complications with your dental implants. Instead, choose to eat healthy foods like fruits, veggies, and low-fat dairy products. These items contain calcium and vitamin C, keeping your jawbone and mouth healthy.
Break Bad Habits
Dental implants are made to be durable and lasting, however they can still break or fail due to bad habits. Stop smoking and using tobacco products because this habit slows down healing and promotes infection. Additionally, avoid using your teeth for anything other than chewing, speaking, and smiling. Opening packages or bottles with your teeth are quick ways to damage your grin, which can lead to implant failure or replacement. If you feel the need to always chew on something, pick a sugarless gum instead of pens, ice cubes, or other common objects to save your implants.
Protect Your Dental Implants
Sports injuries are another cause of implant failure. In order to protect your smile, we recommend wearing a mouthguard during physical activity. Our custom-made mouthguards are incredibly comfortable and long-lasting, and they effectively reduce the risk of damage to your smile. Additionally, you should wear a nightguard if you're affected by bruxism (teeth grinding). This puts unnecessary pressure on your implants, leading to their potential failure if the issue isn't addressed.
Schedule Regular Dental Checkups
Make sure that you're visiting Dr. Crumpton for routine checkups and cleanings at least twice a year. These appointments are an important part of your maintenance because they allow your implant dentist in Trophy Club to catch any issues while they are still early. This saves you potential time and money by avoiding significant problems that can cause implant failure.