Dental Implants – Trophy Club, TX
New Tooth Roots That Last a Lifetime
Unexpected tooth loss can be an unwelcome adjustment to not only your smile but to your life. When you are missing teeth, you may start to notice little problems appear that were not there before. For instance, your bite force may be weakened, and it may be harder to eat your favorite foods. You may not be able to enunciate or communicate as clearly as you like, as well. Your remaining teeth may start to shift or drift into the opening, and this can lead to further tooth loss.
Loss of bone may occur quickly, and your gums can start to shrink. Moreover, this is just the tip of the iceberg! When our team here at David Crumpton, DDS encounters patients without some (or all!) of their teeth, we like to share them the facts about dental implants from our Trophy Club, TX dentist to help them determine if they are a worthwhile solution for their missing teeth.
Why Choose David Crumpton, DDS for Dental Implants?
Implants Placed and Restored In-House
Advanced Technology for Planning Treatment
Dentists Always Take the Time to Explain Care
What are Dental Implants?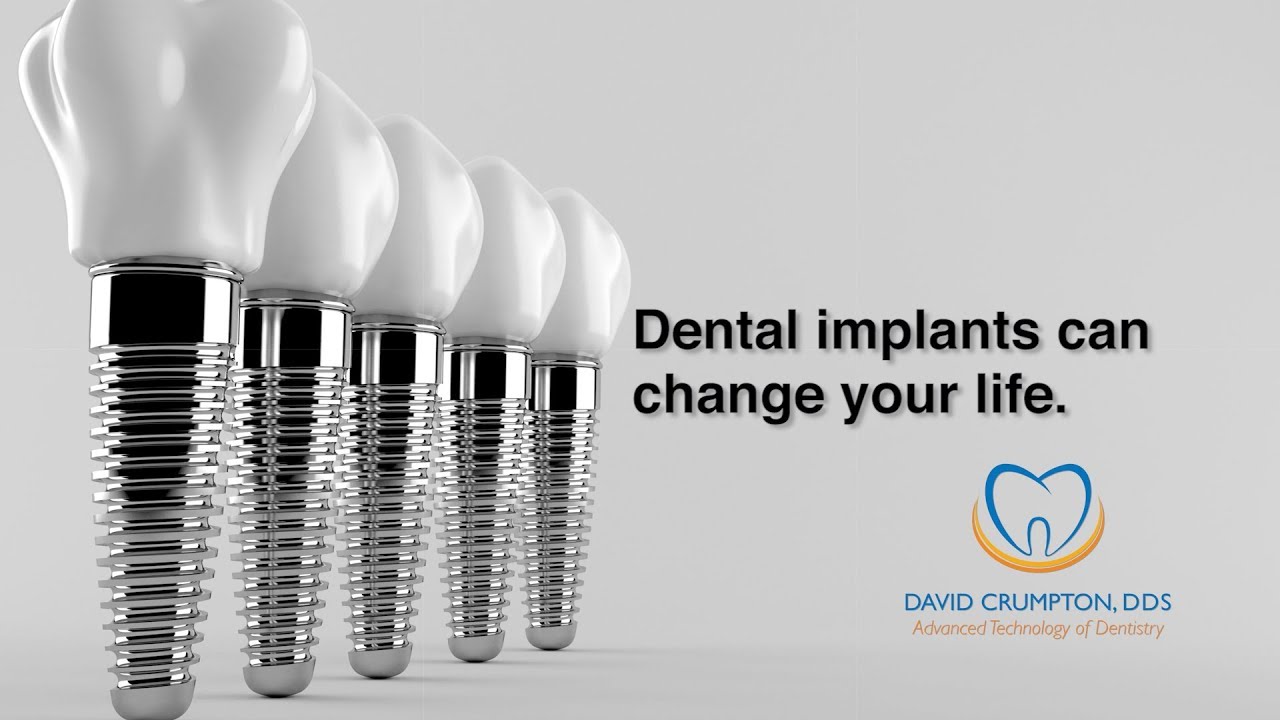 Dental implants, while still a relatively new technology, can provide our patients with the highest quality and most natural-looking replacement option for their missing teeth. This procedure continues to grow in popularity, with half a million people choosing dental implants every year.
Unlike dentures, which can be removed from your mouth for cleaning, dental implants are a permanent fixture to your mouth. They do not slip or impair your ability to speak, and they do not cause abrasions or discomfort in your mouth as conventional dentures can. Also, unlike dentures, dental implants are surgically placed, giving you a lasting and attractive alternative to other dental prosthetic options.
Dental implants are comprised of three main components: the implant (a titanium screw), the abutment (the part that attaches the implant to the restoration), and the restoration (also known as the crown, the part that resembles a tooth). During the procedure to place the implant, we will begin by thoroughly numbing your mouth to ensure that you do not experience any discomfort throughout it. We will create an incision in your gumline, then surgically place the titanium screw directly into your jawbone. The abutment will protrude from it, above the gumline. This is where we will attach the restoration, finalizing the procedure.
Learn About The History of Dental Implants
Benefits of Dental Implants
Over five million implants are placed every year, and the treatment is only growing in popularity as more and more people learn about the benefits, which include:
Custom-designed restorations that blend in perfectly with the natural teeth after being attached to implant posts.
New, durable roots that nearly completely restore your ability to bite and chew.
The prevention of bone loss, dental drift, and other oral health problems.
Implant posts that can last for decades or longer with the right care.
Learn More About the Benefits of Dental Implants
Are Dental Implants Right for You?
We recommend dental implants for almost any patient that loses a tooth or has an extraction performed. In some cases, bone grafts might be required to create the bone density levels necessary to support the posts, and we will also have to make sure your mouth is free of infections that could lead to dental implant failure. Implants are highly versatile and can be used to replace any number of teeth, depending on your needs.
Learn Who is a Candidate for Dental Implants
Missing One Tooth
One implant post will be carefully placed in the gap where the tooth was. After a few months, the implant will have fused with the jawbone and will effectively be part of your mouth. Once an abutment has been attached and the surrounding gums have had a chance to heal, a crown will be placed.
Missing Multiple Teeth
Two implants will be placed on either side of a gap that was left by at least three teeth in a row. A dental bridge will be made out of a pair of crowns and at least one prosthetic tooth. This approach avoids the need to make permanent alterations to any healthy remaining teeth.
Missing All of Your Teeth
Dentures can be anchored to multiple implants at once in order to replace entire rows of teeth. While some implants are made to be removable, most of the time they will be permanently fixed in place, which helps them look and feel as much like your natural teeth as possible.
Hybridge Dental Implants
With the Hybridge procedure, we can place dentures that use the absolute minimum amount of implant posts possible for support. The posterior implants will be angled in a way so that they join with the bone tissue near the front of the jaw, granting them better stability. Sometimes it's possible to restore hybridge implants on the same day as the surgery.
Start to Finish Convenience
From start to finish, getting a dental implant can take several months. The initial procedure, of course, can take between one to two hours to surgically place it. However, we must wait for the implant to heal before we can proceed with the placement of the abutment and the restoration. The titanium implant needs to first fuse to the jawbone in a process known as osteointegration. This helps to keep it strong and reinforces it. By allowing your mouth to heal completely from the procedure, we are ensuring the success of your implant. By and large, this procedure is quite safe and has a good prognosis for our patients, with a 98 percent success rate.
Understanding the Cost of Dental Implants
During your first consultation, we'll go over a number of factors that could help shape the final price of your dental implant treatment. How many teeth need to be replaced? How many implants are you expecting to get, and what kind of restoration will they support? Will we be able to start the surgery right away, or will preparatory treatments be needed first? All of these questions need to be carefully considered before a reliable estimate can be made.
Dental Implant Education
Do you want to learn more about dental implants before getting them? Check the links below for additional information that we want our patients to be aware of. Contact us if you have other questions.