Full Arch Dental Implants – Trophy Club, TX
A New Smile – Complete with Roots
It is very rare to meet a person who was blessed with a good set of teeth. Even with superior dental health, life can take us all down high-risk paths when it comes to our mouths. Athletes are often involved with professions where heavy, fast-moving projectiles can strike the head at any moment. While mouthguards are essential to protecting your teeth from an unexpected blow, it is still a ball to the face. Alternatively, childbirth requires vital nutrients for optimal development. If there is a deficiency of calcium or malabsorption, a mother can put her teeth and bones at risk with every pregnancy. Whatever your reason may be for deciding to have your mouth restored, David Crumpton, DDS can help you find out what suits your needs the best and work with you to obtain it, including providing tooth replacement with full arch dental implants in Trophy Club, TX.
Why Choose David Crumpton, DDS for Full Arch Dental Implants?
Implant Procedure Completed In-House
Advanced Diagnostic Technology
Long Lasting, High Quality Prosthetics
Understanding How Dental Implants Work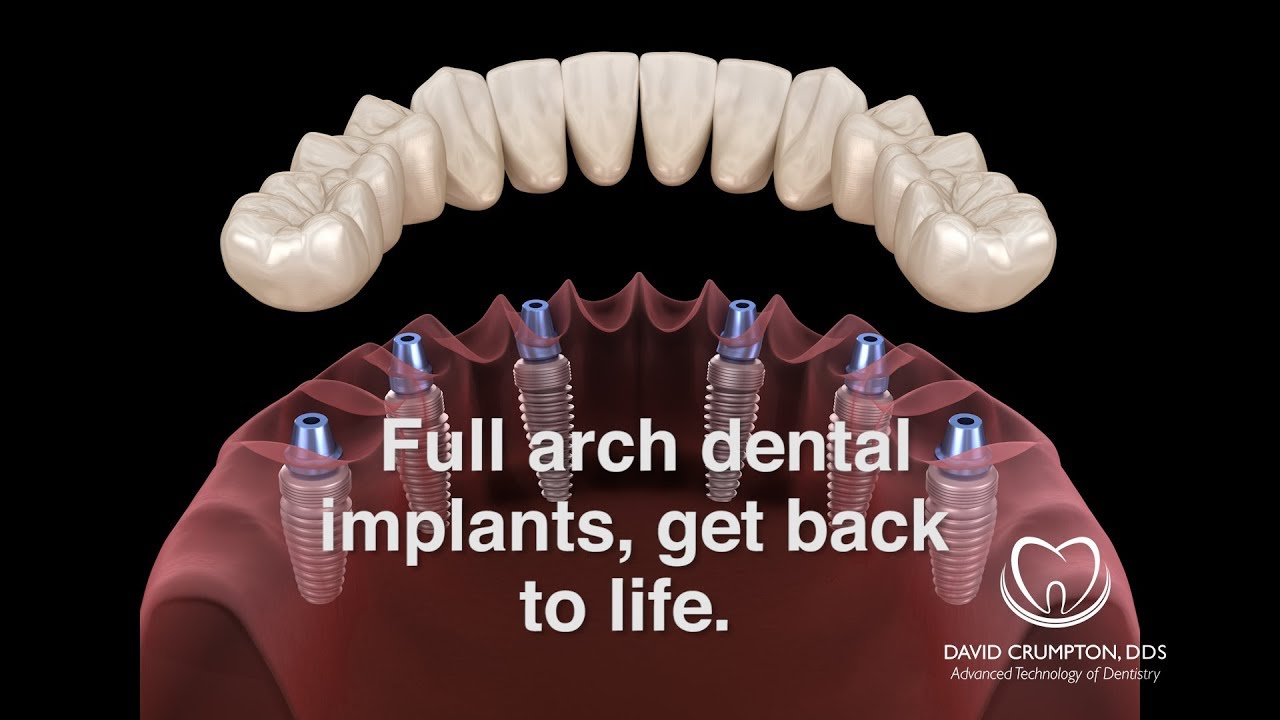 Whether you are missing a single tooth or are completely toothless, an implant can benefit you! For a missing tooth, as soon as we know about it, we can start to repair it. A tiny titanium implant screwed into the jaw can keep the supporting bone strong and even start to regenerate it. In replacement surgery, it is becoming universally recognized how compatible titanium can be with human cells. There is a good chance your body may accept the titanium screw that replaces the lost root and take care of it like it was your original tooth.
If you are missing multiple teeth, an implant can help rebuild the degrading tissue and restore your jaw before it resorbs enough to affect the shape of your face. This is one of the best ways to salvage remaining teeth, which may be healthy otherwise. A person who has lived a long time with false teeth may be able to appreciate how much an implant can make their quality of life better. Implant dentures can also be much more secure than having to rely on the sticky, unreliable adhesives that keep the standard denture plates in your mouth.
Which Dental Implant Is Best for You?
There are many types of dental implants available that can be created specifically for your needs. Depending on your requirements, we can determine how many implants may be necessary for your treatment plan. For upper plates, you may only need anywhere from two to six implants to create a sturdy enough foundation for your new teeth. Lower plates often only require two to five implants for ample security. If there is significant bone regression, we may recommend a graft or implant-supported dentures.
Implant-retained dentures work much like your natural teeth. It is entirely possible for you to regain up to 100% of your chewing function, which can aid in digestion and the overall pleasure of eating. Because the implants allow the piece to be fitted to your mouth, there is usually less material required in the upper plate structure. For many people, this can make it much easier to detect flavor, as taste buds may have been blocked before by bulky, ill-fitting dentures. For those who may not have been able to wear dentures previously due to a sensitive gag reflex, implant dentures could be a possible solution.
Many people find that no amount of applesauce can ever be as satisfying as a juicy Honeycrisp apple. Some may just appreciate the security of teeth that stay firmly in the mouth the way they should. Regardless of your reasons, implant-retained dentures can be a life-changing decision. Not only will your false teeth be more comfortable and reliable daily, but you may also find it impossible to resist showing off your incredible, natural-looking new smile!
If you think dental implants are something you may benefit from, stop in at David Crumpton, DDS to discover what options are available, or give us a call at 817-678-7395 where we will be happy to answer any questions!